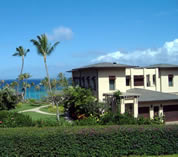 We believe that Kapalua is one of the leading residential resort communities in the nation; if not the world. The great climate, topography, meticulous long term planning, award winning beaches, fantastic amenities, and its effective Community Association all contribute to this belief. We welcome your interest and participation in the Kapalua Resort Association.
What is KRA?
The Kapalua Resort Association (KRA) is a Hawaii non-profit corporation, chartered in 1977. Generally speaking, this corporation is organized to provide for the management, maintenance, protection, preservation, aesthetic and architectural control and development of property on the Island of Maui; within an area known as the Kapalua Resort.
Kapalua Resort Association membership is much more diverse than most community associations and includes owners of individual condominiums, hotels, single family homes, undeveloped lots, commercial establishments and land parcels. Here is a link that details the current structure of KRA. All of these owners have a vested interest in Kapalua. It is for the benefit of all that the KRA strives to protect, preserve, and enhance the value of the collective assets within the resort, as well as the perceived quality of life. The collective value of assets in Kapalua is currently estimated to be in the billions of dollars - quite a responsibility!
This responsibility is guided by a Board of Directors, whose authority is defined in the governing documents, and is implemented by the Association Director on behalf of the Association. The Board is made up of five elected individuals with varied backgrounds in the professional arena. Currently, the Board has member representation from the following three classifications: Homeowner's, Hotel and the Developer.
Generally, KRA's attentions are focused on the Resort Community, as mandated, rather than being politically active outside of the resort. All of KRA's time and effort is directed to maintaining and improving the common elements within the boundaries of the resort, where it functions as a governmental body and is operated as a business. What exactly are the common elements? Condensed to its simplest forms, the common elements include the roadways, landscaped roadsides, beach accesses, signs, lighting, walkways and trails.