The Kapalua Shuttle - 808-665-9110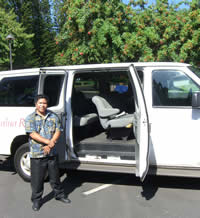 One of the benefits offered to owners and guests of Kapalua is the resort shuttle. The shuttle will take you between any two points in the resort, including hotels, residences, golf courses and beaches.
All you need to do is call the shuttle service center at 808-665-9110 and a shuttle will be dispatched as soon as possible. The Shuttle Drivers ask that you please allow at least fifteen minutes for a response time and that you have someone wait for the shuttle outside of your unit. The dispatcher can offer an estimate of the wait time when you call for pick-up.
Here are the more common questions:
How far in advance do I need to call the shuttle?
Generally, a fifteen minute window is appropriate. However, sometimes, the shuttles get busy, so there will occasionally be a longer wait.
What are the hours of operation?
The shuttle operates from 7:00 in the morning till 11:00 at night. Last call for vehicle dispatch is 10:45 PM.
Where should I wait?
If you are in a home or condo, the dispatcher will usually instruct you to wait just outside your unit. In the case of the golf courses, the hotel, restaurants, or beach parks, please wait at the entrances to each.
Can I ask a resort employee to call for a shuttle?
Absolutely! For example, if you're leaving a golf course, feel free to ask someone in the pro shop to call a shuttle for you. The Ritz-Carlton Hotel has frequent pick ups as well in front of the hotel.
How long will the Shuttle Driver wait for me?
We ask that you be ready for the driver once you call. Because of the high number of trips made each day, we regret that the driver cannot wait.
Can the resort shuttle take me to Kahului Airport?
Our resort partner, SpeediShuttle's primary business model is airport transportation and they can arrange transportation to the Kahului Airport. Please contact the shuttle office for the schedule, fares, and reservations.
Does the Kapalua Resort Shuttle offer private transportation?
The complimentary resort shuttle is a shared-ride transportation service. Our vendor, SpeediShuttle, has a variety of services that are available for hire through their subsidiary, Arthur's Limousine. Please contact them through the shuttle office for more information on their services.